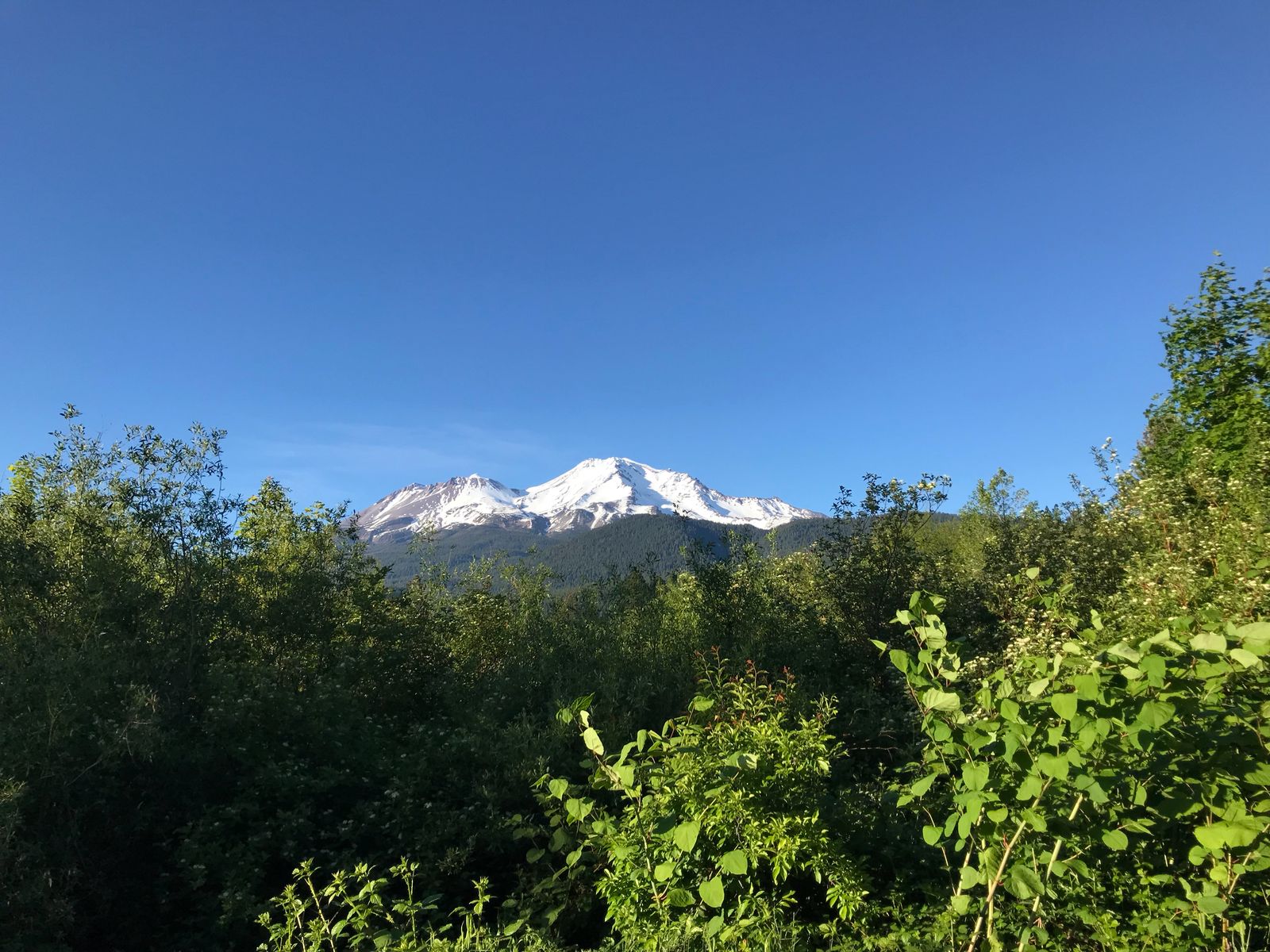 It's quite a challenge to climb Mount Shasta. It's an active volcano and as a result, it's high and steep. At 14180 feet it is the fifth highest peak in California. With 3000 meters of vertical prominence over the nearby town of the same name, it stands like an Eiffel Tower over the surrounding area, except that the Shasta tower is ten times higher. According to Wikipedia, it is one of the one hundred most prominent peaks in the world https://en.m.wikipedia.org/wiki/List_of_peaks_by_prominence
Most people attempt to climb it over two days, via the Avalanche Gulch route. I like going light and knew it is possible to climb it in a day so I searched the internet for tips but didn't find many good results, so I decided to write about my attempt.
Physical conditioning
Climbing mount Shasta involves climbing 7,200 feet, from the Bunny Flat trailhead at 6,950 feet, all they way up to the summit at 14,180 feet, while carrying heavy boots, crampons, lots of water, ice axe, trekking poles and extra clothes. It requires a lot of endurance and conditioning.
I consider myself in a pretty good shape but not anywhere near a competitive level. I'm not especially fast when running or cycling, but I have above average endurance. I've ran marathons (slowly) in the past, and I've done many cycling day trips on the order of 7-8 hours, as well as couple of multi day trips along the California coast.
Two weeks before the climb, me and my partner did an 12 mile hike in about 4.5 hours, and the Monday before the hike we biked about 50 miles in about 5.5 hours. Both of these trips involved some decent elevation gain and we were aiming to do them at an "eager" pace.
The week before
The days leading to the climb I took it easy in terms of exercise. I skipped my usual Brazilian Jui Jitsu and only did my morning routine of calisthenics and stretches that I do every day, which takes about 10-15 minutes. That rest, combined with sufficient sleep throughout the week really paid off when going up the elevation.
I was also checking the weather forecast at this website https://www.wrh.noaa.gov/mfr/TextProduct.php?wfo=mfr&pil=REC&sid=MFR&version=0 The weather looked with great with 32F at the peak and only 6mph wind.
Driving in
We opted to arrive Thursday night and work remotely for a day. This helped us recover from the drive with a decent night of sleep. I find long drives tiring and had I driven the night before the climb I would have made my experience a lot more miserable.
On Friday, June 1st I went to the trailhead to fill up the self-issued permits and did a short 30-40 minute minute hike around the trailhead to help with acclimatization. Went to sleep early night, around 9pm.
Bunny Flat to Lake Helen
On Saturday morning my alarm rang at 2:40am which gave me some time for a quick breakfast (almond butter, nuttela, sourdough toast) and light stretching which primed my body for the climb. I was very excited to start climbing.
At 4:12am we started marching from the Bunny Flat trailhead. That's a bit of a late start, and if I were to do it again, I'd aim to start at 3am. That first part of the hike was completely dry until we reached Horse Camp, about 45 minutes in. We did a quick stop drink water and fill up some more bottles and were passed by another hiker, who had started shortly after us.
We got slightly lost there, and instead of going on the causeway (big stones) we continued through the campground and slightly to the south of main path for half a mile or so until we rejoined the main tracks. For a while, it was dark enough that we can see trails of people climbing up towards the Red Banks with their headlights on.
It soon became bright enough that we didn't need the headlights any more.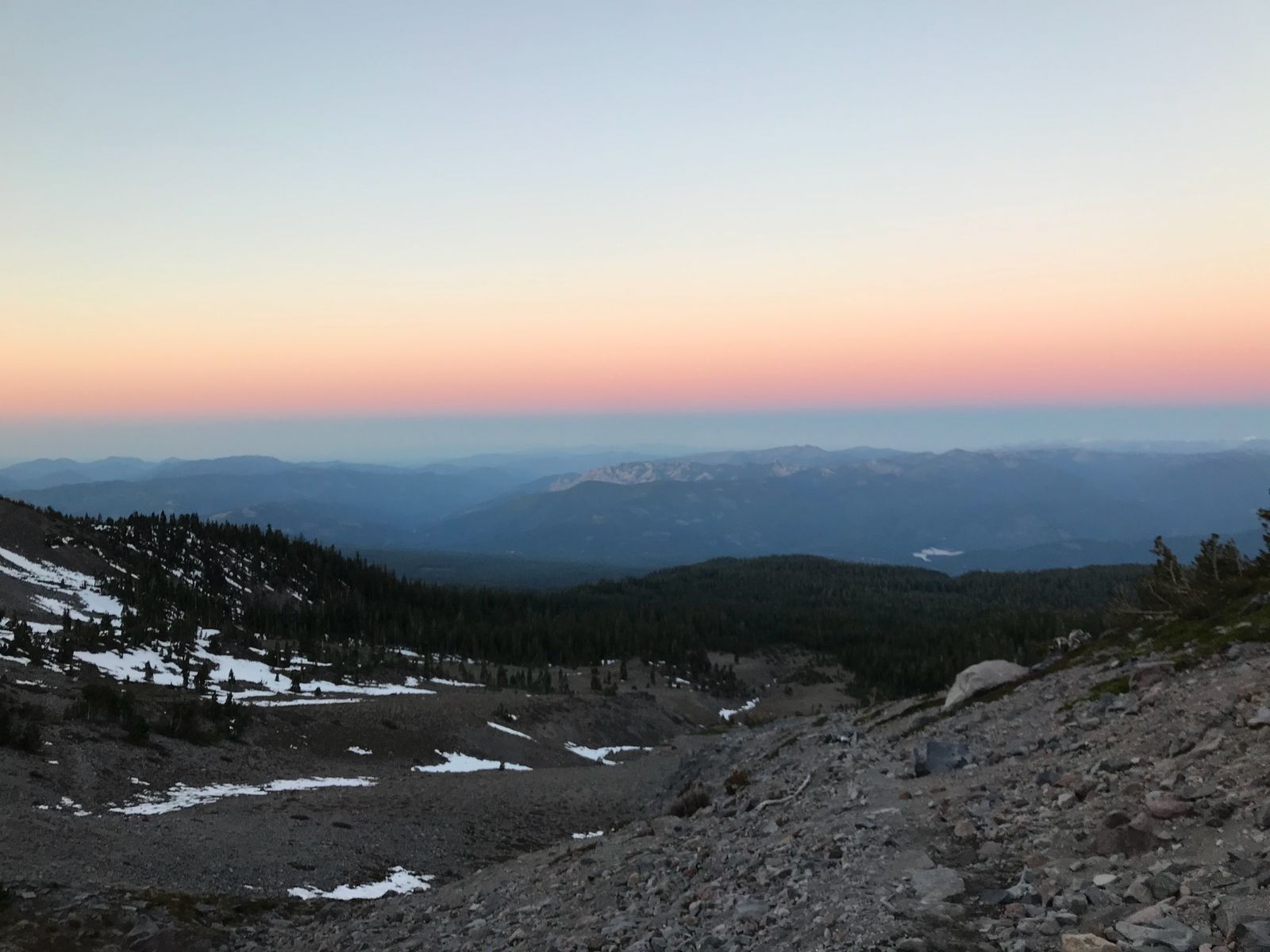 Around that time we reached the beginning of the snow, and brought out the trekking poles.
Soon, the slope became steeper. We kept on chugging along, initially with a good pace. We met some other people. Some of them were climbing with skis and others were descending. An elderly gentleman that was coming down told us that there are pretty good snowsteps until Lake Helen and we don't need crampons until then.
After another hour or so, my partner started slowing down, and yawning. She hadn't been able to get good rest and sleep in the upcoming week. At 7:15 we stopped, soon before Lake Helen for rest and breakfast. It felt very cold very fast. Up until then we had been climbing with very light clothing - just a t-shirt and a long sleeve thermal underwear. Within a couple of minutes of stopping I had to put on my down jacket on. I also put the helmet on at this time.
Around 8am we reached Lake Helen and that's where my partner decided to call it, and we split. She decided to rest for a bit at lake Helen and then return. We had reach lake Helen a couple years before, so I felt she'll be safe going down.
I had heard that it takes about 5 hours from here to the top and I was worried that I'm among the last climbers going up. I had read that 12-1pm a good aim for a turnaround time. So I had only borderline enough time. But I was feeling good physically, and the weather that day was amazingly calm, according to the forecast and my observations, so I decided to go ahead and try for the summit.
I was among the last people but I could see plenty of people going down, so I figured, that as long as I see other people on the mountain, I'd be safe.
Lake Helen to the top of Red Banks, Thumb rock
After lake Helen the path became steeper. It was still quite cold and the snow was hard. I was able to use the existing steps in the snow and to to avoid using crampons for a while. This is where I also started feeling the altitude, and had to really pace myself. Anytime I went with an eager step for a while, I started feeling my heartbeat at the top of my head. To adjust, I adopted the "pole pole" method of slow but steady climbing, deep breathing, preferably inhaling through the nose, and frequent water, as needed.
I had heard that this is a dangerous area, due to ice and rock fall, but it was still quite scary when I experienced it myself. About an hour after Helen, I started noticing occasional pieces of ice rolling down the hill, like bouncing balls. There were a bunch of them, and I didn't want to get hit. Not only I had to be careful where I step, I also had to constantly keep looking up to anticipate the rockfall.
These rocks can gather up quite a speed and they bounce off the icy slopes in random, unpredictable directions. Furthermore, they come from all directions. This is what the section looked like - a bowl. Coming up and to the right of the bowl, I had rocks coming down from all sides of the ball. Some of them were as big as a football. If you ask whether I mean an American football, or a soccer ball, I'd like to hear what's the difference if you get hit by one going down about 50-60mph or more. It won't be a pretty sight, and I had to avoid getting hit, even if it meant jumping to the side and losing balance.
Luckily, I didn't get hit, though I had to deflect a small piece of ice with my trekking pole.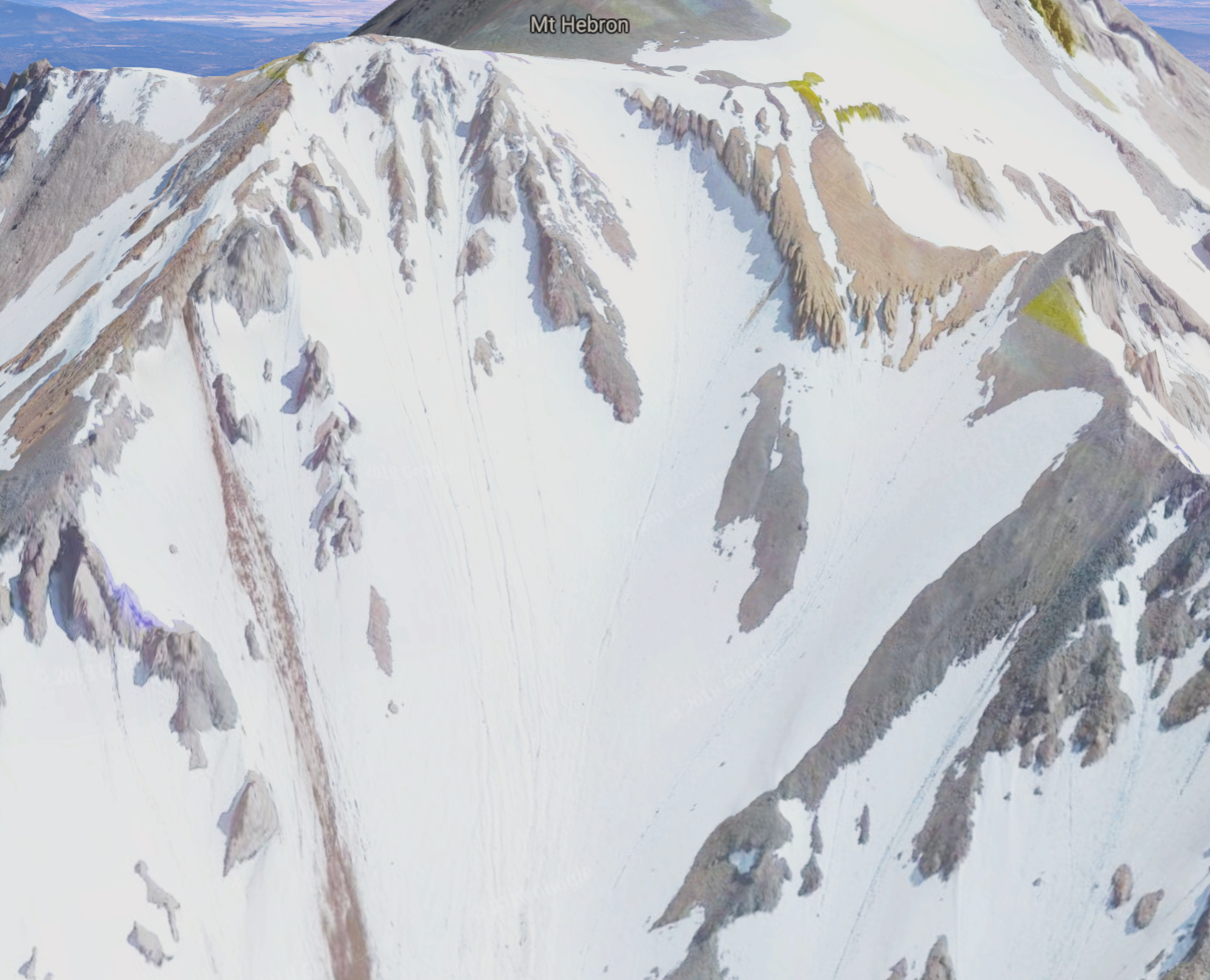 Two thirds of the way up, I was told "Put your crampons on, buddy" by a helpful gentleman, and I decided to heed the advice. I was past the worst rockfall area, so it seemed OK to stop there. In hindsight, I probably should've put the crampons on right after Helen. It would've been safer, and they don't really weigh that much.
Around 10:45 I reached Thumb rock at about 12,800 feet, above the main rockfall area and decided it's a good time to get a well deserved break and have some food, while savoring the vierw. I also had a small amount of caffeine (25mg) which I usually avoid, and that gave me a bit of encouragement and energy.
The views were already amazing and I was basking in them!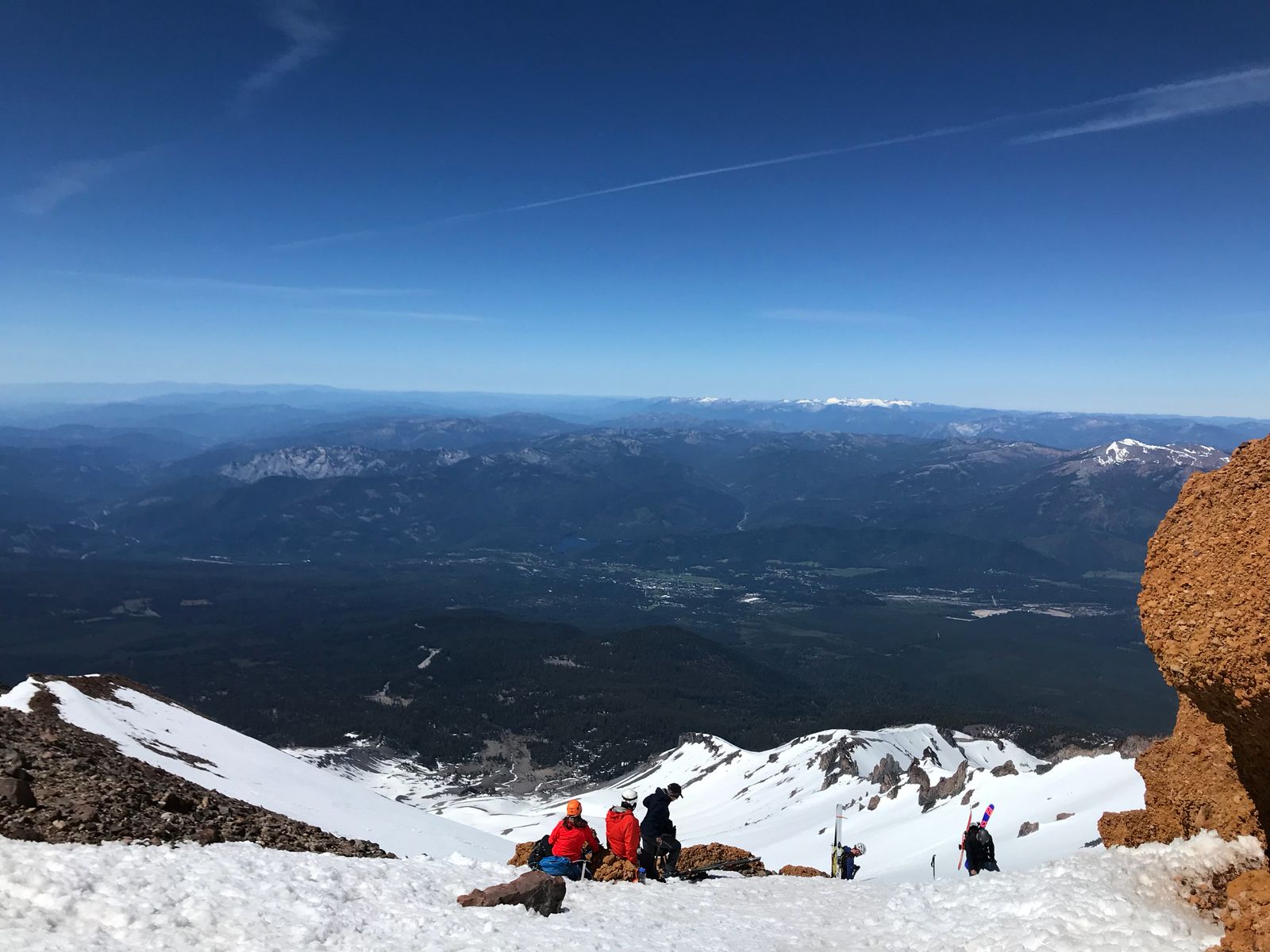 Red banks to the summit
After red banks there is a small hill, and then the famous "Misery hill". Whether from the excitement that I have a good chance of making it to the top, or from the rest and food, or from the caffeine, I didn't feel any misery. I felt great. I was using my ice axe as a support and still going slowly due to altitude, but my pace was pretty consistent and steady, and I was really enjoying it. It was also sunny and warm day which also helped lift my spirits.
Once I got to the top of Misery Hill, I could see the summit, and there was a bit of flatish section. That gave me an extra confidence boost. I also happened to meet up with the dude that passed me on Horse Camp, who was already coming down from the summit. He made it to the top in seven hours and ten minutes. That's an excellent time. He had a smaller backpack but was older and had a potbelly. Respect!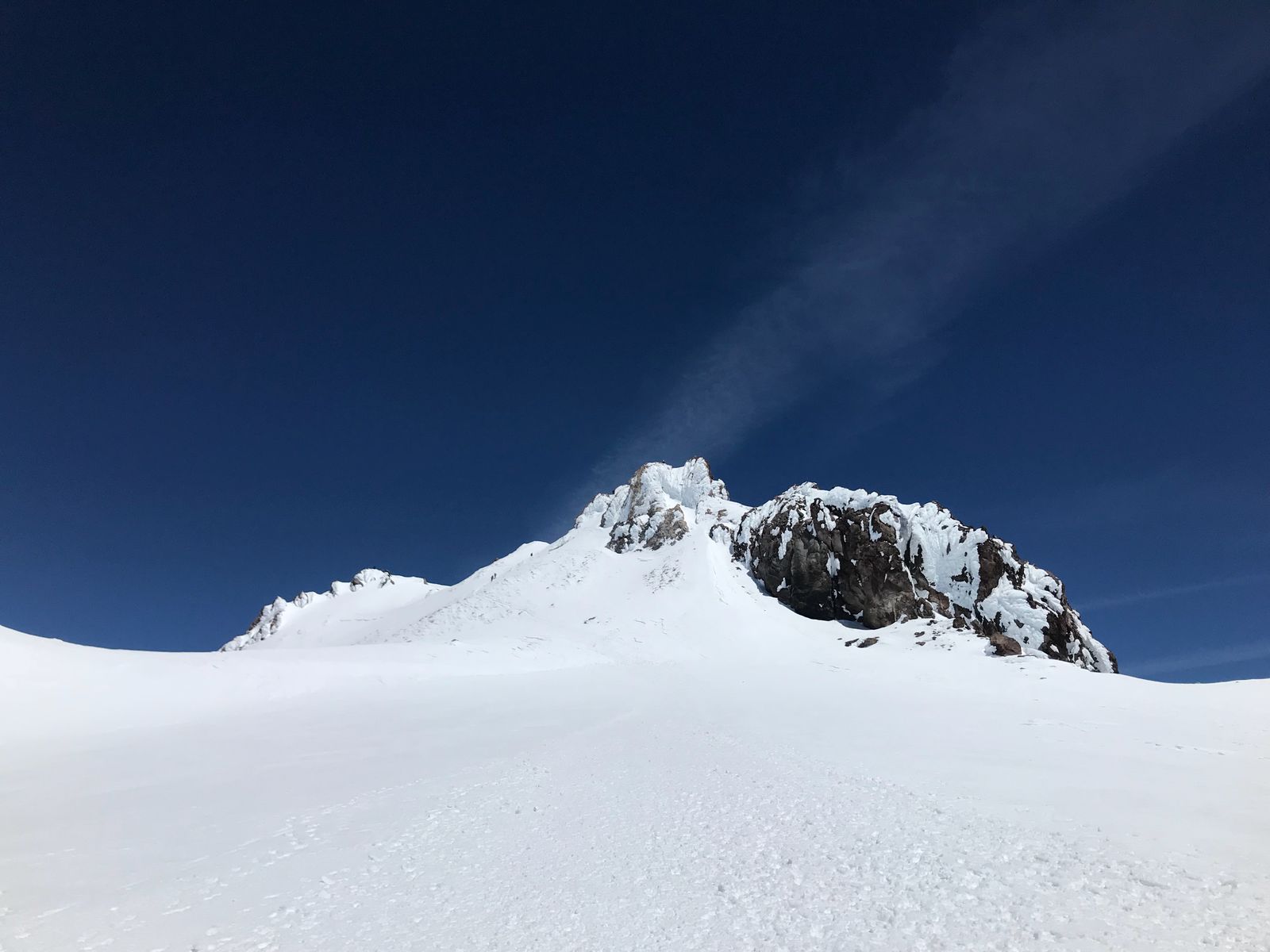 There were still plenty of people there and I felt safe. Many of them were encouraging me on my way up, which made me extra excited.
Right before the summit, a ranger was coming down on ski, and asked me for my permit. Seeing that I don't have it super handy, he instead asked me for the price and the color of the paper and waved me off.
I reached the top at 12:47 and was very ecstatic. There are still many people on the summit. I asked some of them for photos and I signed the book. I also took photos of some of them and some panoramas for myself.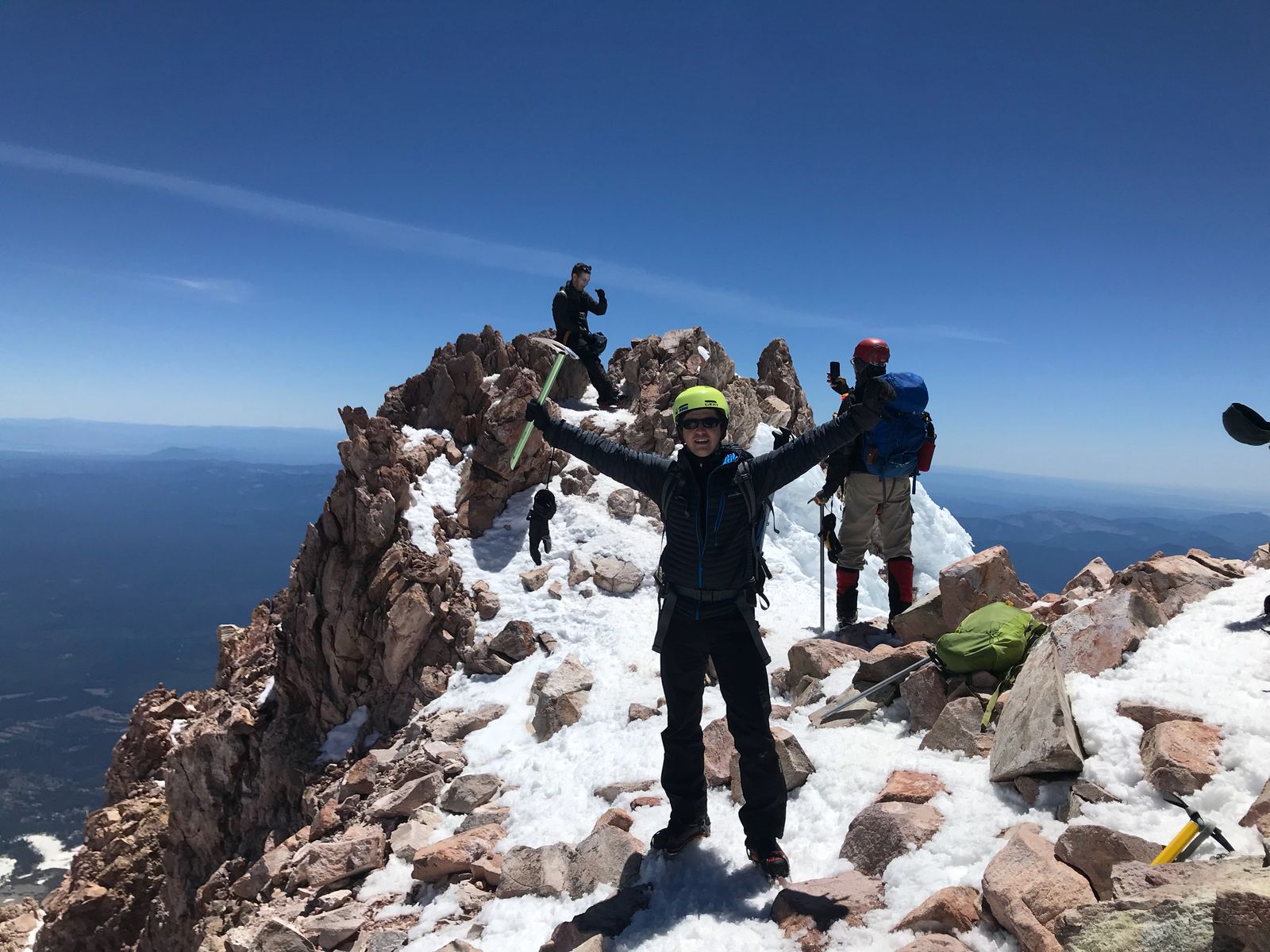 Going down and Glissading
Going down was much easier as it required a lot less energy. Coming down Misery Hill, I tried glissading, a.k.a. sliding down on my butt. This required me to remove my crampons, as I read that having crampons while sliding might easily result in ankle injuries. When glissading though, I really had to use my ice axe to self arrest due to the snow softness. Occasionally, I had to alternate glissading with walking down whenever it seemed more prudent.
The snow was getting quite soft at that time and just walking I was sinking in quite a bit. Without crampons, it often felt quite slippery on the slopes.
By the time I reached the top of the Red Banks, I had gained some more confidence in glissading. I also got better at self arresting with the ice axe. I've watched some videos on how to do it, and it required pressing down the head of the ice axe with the shoulder while trying to also put a lot of the weight behind it. I had fun practicing that as it reminded me of some techniques in Brazilian Jiu Jitsu, when it's necessary to put the weight on the opponent.
From nearly the top of the Red Banks I glissaded down, in a single run, almost all the way down to lake Helen. That was so much fun, I felt like a little kid again :D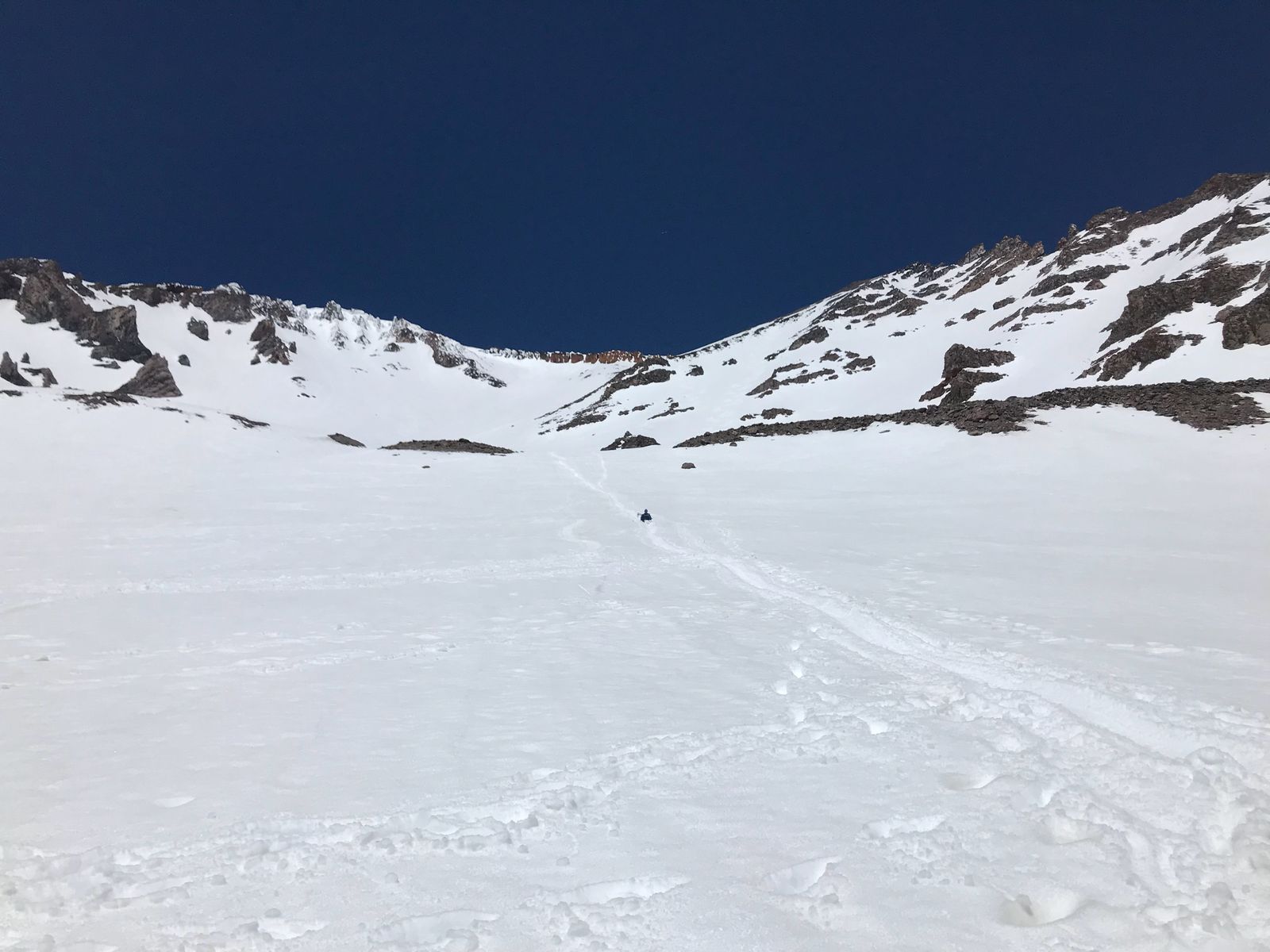 At Helen around 2:15, I called my partner and estimated that I'd be back to the trailhead around 4:30.
By now the snow was getting really soft, and even butt-sliding was quite hard, especially given that the slope is less steep below Helen. There were also a lot of people going down or up there. It was super crowded.
I was also wet from the sliding, as melted snow had gotten into my boots, and had soaked parts of my down jacket. But was really warm, so this only amounted to small discomfort.
Getting back to Horse Camp around 3:45 I was finishing the last of my water. I had used 4L up until that point today. I filled up a Nalgene bottle, changed my socks with dry ones, and packed some more clothes away and continued back to the trailhead, which I reached at 4:38pm.
Total time on the mountain - 12 hours and a half. I felt proud, and tired. We celebrated with a nice dinner and went to sleep early.
What would I do different if/when I climb it again
That day, the mountain allowed me to climb it, with the nice weather and conditions, but I didn't do my best. Here are a few things I would do differently next time:
I would start earlier - around 3am.
I might carry slightly less extra clothes, especially if the forecast is as good as that day.
I would put a lot more sunscreen - I got burned on my face and my lips got broken.
I would put my crampons on at Lake Helen. This way I wouldn't be forced to put them on under a heavy bombardment of falling rocks.
This is one of my favorite hikes that I've ever done, and the highest so far. I would really recommend it, and be happy to attempt it again.
P.S. Two years later (Aug 2020)
I did go again the next year 2019, but I wasn't in as good condition and slowed down with the elevation. I did reach a few hundred feet from the peak, and that time my partner was able to summit instead. Mountains are never to be underestimated :P